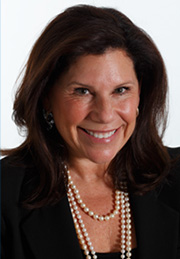 Laura Michaud has been conducting workshops, keynotes, and presentations for decades. Her goal is simple: To ensure that your event is memorable and productive, and your attendees will walk away with tangible ideas, solutions, and programs that they can put to use immediately.
Laura Michaud has dedicated her career to finding solutions to the issues that pertain to family businesses. A recognized expert in business and motivation, Laura is a gifted storyteller and interactive speaker who can hold a room captive for hours. When you hire Laura for your event, you know the outcome will be a success.
---
Laura's Six-Step Process Starts with Thorough Preparation.

Laura can conduct anything from a one-hour keynote to a multi-day program that delves into more depth. She customizes her programs specifically for your group. Some popular requests can be seen here
Her process is a systematic six-step approach:
Laura asks the client to fill out a detailed pre-meeting questionnaire that allows her to get a clear idea of the issues from the client's point of view and what seeds they may want planted.

She then interviews stakeholders to ensure that she understands their mindset and needs.

Following the interviews, Laura fully customizes the program to the client's needs

Next step is to present the program, take questions, and make time to interact with attendees

60-day free email consultation is the fifth step, for any questions from attendees that may arise after the program

Finally, Laura debriefs the client on what she has learned, and offers suggestions based on the knowledge learned
---
Laura makes the set up easy for the client by sharing in advance her room set-up requirements and a sample introduction.
---
Laura's Guarantee
In fact, Laura is so sure she will meet your needs that she offers a money back guarantee, should you be dissatisfied with the results. Since starting her business in 1998, no one has ever asked for money back!